Employee Spotlight: Daraya (Dara) Wilson, Medical Assistant

We are very excited to highlight one of our most valuable assets, our employees! Each month, get to know the HPC team in a fun new way.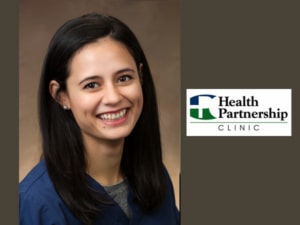 Name:  Daraya (Dara) Wilson
Department: Medical
Title: Medical Assistant
Primary work location: Olathe
How long have you worked at HPC?  
I have worked at HPC since July 2020.
How did you get into your field of work?
I interned at a KU research lab looking at HIV and monkeys. The virus and scientific process captivated me. At the same time, each night I looked forward to waitressing because I got to work with people. Working in a clinical setting brings the best of these two worlds.
Do you speak any other languages? If yes, which ones?
Yes, I am fluent in Indonesian. I would like to improve my Spanish, and I know some basics of my husband's languages (Tajik and Russian).
Do you have a favorite quote? If yes, what is it?
Yes, it is "Ad astra per aspera."
Translation: "To the stars through difficulties."
What values are important to you?
Values that are important to me include family, religion and education.
What is something about you that would surprise people?
I was raised to be proud of my Indonesian heritage. One way to demonstrate this is through dance. I began performing traditional Indonesian dances when I was six years old. Since then, I have performed across the United States and taught others along the way. Through teaching I learned more about my culture and values.
What is on your "bucket" list?
I would like to eat the lamb that was baked in the ground in Turkey, I believe it is known as tandir kebab.
What is your favorite food?
Anything homemade! They have the flavor of love, especially family recipes.
What is your favorite movie?
I am a bit of an oddball in this matter because I do not like movies.
What is your favorite hobby?
I enjoy cooking! It's my form of self-expression and creativity. Plus, preparing and sharing a meal with others is my favorite way to bond with family and friends.
Are you an animal lover?  If yes, how many pets do you have and what kind are they?
I'm a huge dog person! I was volunteering at local rescues, taking dogs out on walks or playing with them. In January, my family fell in love with a newly arrived dog and we gave her a forever home. She is probably an Australian Kelpie mixed with a shepherd. One thing we know for sure is that she is super smart and sweet.
https://hpcks.org/wp-content/uploads/2021/03/Dara-Wilson-Featured.jpg
450
600
Debbie Sparks
https://hpcks.org/wp-content/uploads/2018/01/HPCLogo-v2-300x135.jpg
Debbie Sparks
2021-04-19 06:00:09
2021-03-25 17:15:51
Employee Spotlight: Daraya (Dara) Wilson, Medical Assistant