Lifespan Vaccines: Are You Up To Date?
By Rachel Acuna, RN, Clinic/Vaccine Outreach Nurse
August is National Immunization Awareness Week which is a great time to put immunizations on the top of your list. At Health Partnership Clinic, we are now offering No Cost Adult Immunizations to Sliding Fee Eligible patients and to those experiencing homelessness. If you are not a patient, please call 913-648-2266 to establish care with one of our providers. Current patients may speak with their provider or call the clinic for a nurse appointment.
Adult Vaccination
Since the development of the first vaccine by Edward Jenner in 1796, we have seen tremendous progress in our ability to prevent deadly childhood infections. But did you know we also need vaccinations as adults?
In addition to an annual vaccination for influenza, the Centers for Disease Control and Prevention (CDC) also recommends adults be up to date on MMR (measles, mumps, rubella), Hepatitis A & B, pertussis (whooping cough), tetanus, diphtheria, varicella (chickenpox and shingles), pneumonia and even meningitis.
Vaccination against hepatitis B can help prevent the development of liver cancer and protect you from hepatitis D.
Complications from adult cases of chickenpox can include; pneumonia, skin infections, encephalitis and joint inflammation.
Measles can lead to pneumonia, ear infections and brain damage.
Among other things, vaccines help to:
Reduce healthcare burdens and costs.
Prevent the development of antibiotic resistance by reducing the need for their use.
Extend life expectancy.
Make it safe to travel to different parts of the world.
Promote economic growth.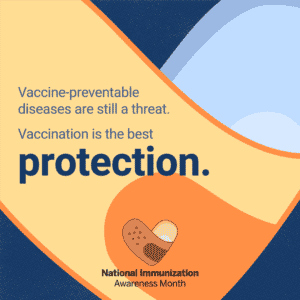 Everyone should get a flu vaccine every year before the end of October, if possible. But you can get one at anytime during flu season.
Adults need a Td (tetanus/diphtheria) or Tdap (tetanus/diphtheria/pertussis) vaccine every ten years.
Healthy adults 50 years and older should get shingles vaccine.
Adults 65 years or older need one dose of pneumococcal conjugate vaccine followed by one dose of pneumococcal polysaccharide vaccine.
Adults younger than 65 years who have certain health conditions like heart disease, diabetes, cancer, or HIV should also get one or both of these vaccines.
Adults may need other vaccines based on health conditions, job, lifestyle, or travel habits. You should talk to your provider for recommendations about what you might need to be up to date.
To recap, here is a list of recommended Adult Vaccines
• Chickenpox (Varicella)
• Human Papillomavirus (HPV)-everyone through 26 years
• Influenza (flu)
• Measles, mumps, rubella (MMR)
• Pneumococcal (pneumonia)
• Shingles (Zoster)-50 years and up
• Tdap (tetanus/diphtheria/pertussis)
• Td (tetanus/diphtheria)-every 10 years
• Hepatitis B
https://hpcks.org/wp-content/uploads/2022/07/Adult-Vaccinations-Featured.jpg
720
1280
Health Partnership Clinic
https://hpcks.org/wp-content/uploads/2018/01/HPCLogo-v2-300x135.jpg
Health Partnership Clinic
2022-07-25 15:11:24
2022-07-25 15:24:32
Lifespan Vaccines: Are You Up To Date?