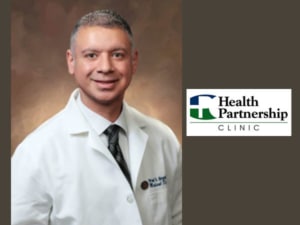 Post written by Wael Mourad, MD, MHCM, FAAFP, Chief Health Officer
Turn on the TV and you're bound to hear breaking news about the COVID-19 vaccine and vaccination plans. It has spurred many questions and concerns from parents and the communities we serve.
At Health Partnership Clinic, our providers are talking with patients every day about the new COVID-19 vaccine. At this time, we have a very limited supply of vaccines and will only be vaccinating current HPC patients who meet the established criteria of both the state and county. We ask that HPC patients request a vaccine from his/her provider through the clinic's patient portal or call 913-276-7012.
We're thrilled so many people are interested in becoming vaccinated to save lives. Community members are encouraged to contact their health providers and/or the county health departments. Meanwhile, Dr. Wael S. Mourad, MD, Chief Health Officer and a family physician, answers some "Frequently Asked Questions" to help you better understand COVID-19 vaccines.
Link for English Questions and Answers
Link for Spanish Questions and Answers
https://hpcks.org/wp-content/uploads/2021/02/IMG_1893web.jpg
533
800
Health Partnership Clinic
https://hpcks.org/wp-content/uploads/2018/01/HPCLogo-v2.jpg
Health Partnership Clinic
2021-03-18 06:00:20
2021-02-24 15:01:59
Ask the Doctor! Chief Health Officer answers COVID-19 Vaccine questions.