HPC now scheduling in person visits for well-child checks, physicals and immunizations.
By Catherine Rice, Vice President of Marketing/Outreach
Even in a Pandemic, accessing health care for children is key
The COVID-19 pandemic is front and center in our lives. But it doesn't stop children from growing or needing life-saving vaccines. That's why Health Partnership Clinic continues to keep the doors open. Patients can access care, such as well child checks, physicals and immunizations, via in person visits or telemedicine, when appropriate.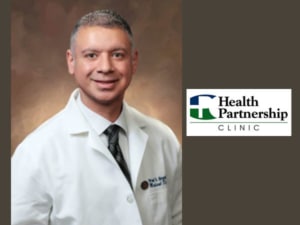 According to Wael S. Mourad, MD, MHCM, FAAFP, Chief Health Officer and Family Physician, the clinic continues to expand and modify procedures to prevent the spread of COVID-19 to keep families safe. This includes everything from all patients and staff wearing masks to limiting only one parent/guardian to attend an appointment with their child to social distancing.
"At HPC, we understand parents may be concerned about keeping standing well-visits for their children or scheduling school or sport physicals," he says. "However, the American Academy of Pediatrics encourages parents to not delay their child's preventive care screenings and well-child visits—steps that are vital to a child's health."
"Well visits and physicals may be initiated through telemedicine, recognizing that some elements of the well exam should be completed in-person. These elements include, at a minimum: the comprehensive physical exam; office testing, including laboratory testing; hearing, vision, and oral health screening; fluoride varnish; and immunizations.  We are now scheduling in person visits by calling 913-648-2266."
Like a child's first steps or first lost tooth, well-visits and immunizations are critical childhood milestones. They are designed to allow for ongoing assessments of infants and toddlers during critical developmental stages, ensure appropriate growth and nutrition and optimize vaccinations before a child encounters a potentially life-threatening infection.
Should You Keep Your Scheduled Appointments?
Yes! Missing your scheduled well visits may limit a provider's ability to catch developmental, social and emotional conditions early on when there's still an opportunity for early intervention. Additionally, you may hinder the important process of protecting your child from serious illness through vaccination.
"COVID-19 is not the only infection risk for children," Dr. Mourad says. "Infections like whooping cough or the measles are potentially even more life threatening for children."
HPC COVID-19 ALERT
To reduce the potential spread of COVID-19:
If you have severe symptoms and feel you need to be seen, please call Health Partnership's dedicated phone line at 913-276-7012 before coming to the clinic.
All patients are required to wear a mask.
Only adult patients (and their legal guardians) are allowed in the clinic. Family or friends must wait in their cars.
Pediatric patients are allowed one parent/guardian to attend an appointment. No additional siblings or family members are allowed.
Pediatric visits for well-child, physicals and immunizations may be scheduled for multiple family members. Children must be healthy and symptom free.
Please practice social distancing for the safety of all.
If you (or your child) have a mild illness and feel comfortable managing with supportive care measures at home, please do so.
https://hpcks.org/wp-content/uploads/2020/05/Superheroes-Peds-2020-FINAL-English-featured.jpg
554
800
Health Partnership Clinic
https://hpcks.org/wp-content/uploads/2018/01/HPCLogo-v2-300x135.jpg
Health Partnership Clinic
2020-05-20 06:00:48
2020-05-19 16:30:22
HPC now scheduling in person visits for well-child checks, physicals and immunizations.