Patient Safety Top Priority of Health Partnership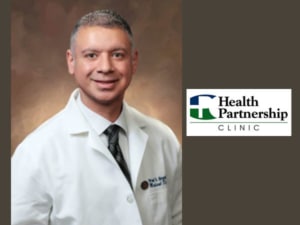 By Wael S. Mourad, MD, MHCM, FAAFP, Family Physician and Chief Health Officer, Health Partnership Clinic. 
Making patients the center of what we do.
At Health Partnership Clinic (HPC), we take patient safety very seriously.
We perform procedures, given injections, prescribe medications and treatments and handle a lot of information in the form of laboratory and other study results. With complex workflows, protocols, policies and procedures, patient safety is always something that needs to be kept in the forefront in our quest to make our patients the center of what we do. March 8-14 marks Patient Safety Awareness Week, and we are encouraging everyone to learn more about health care safety.
In 1999, the Institute of Medicine released a report, To Err is Human: Building a Safer Health System.
The report estimated anywhere from 44,000 to 98,000 preventable deaths per year due to medical error in hospitals. It was estimated that 7,000 alone were due to medication error. The report called for the regular reporting of adverse events, the development of safety programs within healthcare organizations, and close attention by regulators.
At Health Partnership, we have taken several measures to combat what we perceive as areas of greatest risk.
We recognize that communication is a top reason for errors. We therefore have instituted Morning Huddles enterprise wide. These huddles promote a sense of teamwork and serve as an opportunity to highlight the culture of safety that we strive for.
We have also pushed the Patient Portal as an effective way for our patients to communicate with their providers and healthcare team to ask questions, check their lab results, and request medication refills.
Another leading cause of risk that we recognize is occupational safety. We therefore have requested the Kansas Department of Labor to come to HPC to perform courtesy walk through sessions at all our facilities, to point out opportunities for improvement – we take the workplace safety of our staff seriously as well.
Lastly, as a Community Health Center, we have a standing Quality Improvement (QI) Committee, which convents on a monthly basis to review incident reports and trends in those incidents. This committee has been effective in addressing areas of high risk to HPC, its patients and staff.  Overseeing our incident reporting process is our Risk Manager, Lee Champion, RN MSN, who brings a wealth of experience in promoting safety amongst patients and staff.
The first rule of medicine is "do no harm." As we look to the future, we anticipate making more strides in patient safety and making HPC a model organization.
https://hpcks.org/wp-content/uploads/2020/02/Patient-Safety-Awareness-Week-featured.jpg
450
600
Health Partnership Clinic
https://hpcks.org/wp-content/uploads/2018/01/HPCLogo-v2-300x135.jpg
Health Partnership Clinic
2020-03-09 06:00:59
2020-02-24 14:42:10
Patient Safety Top Priority of Health Partnership