Community generosity warms the hearts and souls of staff at Health Partnership Clinic
By Catherine Rice, Vice President of Marketing/Outreach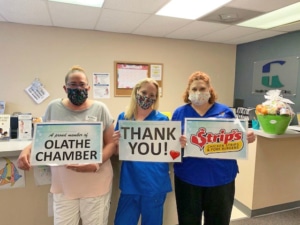 Against the backdrop of all the difficult and painful stories unfolding in the news about COVID-19, it's refreshing and uplifting to see and hear how people and organizations are responding in positive and generous ways. At Health Partnership Clinic, we've been the recipient of so many donations—all given freely to support us as front line health care workers, to recognize our sacrifices and/or to say thank you. In addition, we've received a number of cash donations.
To date, more than 35 individuals, businesses and organizations have donated items to the clinic. Items range from hand sanitizers, PPE to staff lunches, coupons for free drinks/treats, paint and flowers.
We could use your help!
If you would like to donate to Health Partnership Clinic, you can do so on our website. https://hpcks.org/give-back/
For in-kind donations please call Catherine Rice at (913) 730-3680.
Special thanks to the following:
Anonymous
Chick-fil-A
Culvers
Davidson Promotional Products
Direct Relief
Dominos
Amy Falk
FlorasourceKC
Freddy's
Betty Gearheart
Global Birthing Home Foundation
Heart to Heart International
Hibba Haider, MD
Home Depot
Hy-Vee
Rieger Distilling
Jersey Mike's Subs
Kansas City Chinese American Association
Sylvia Kenner
Krispy Kreme
Lucia Jones Herrera, MSN, RN
Macro Pizza
Mickey The Cotton Candy Man
Tracey Mikes
Olathe Chamber of Commerce (Park Street Pastry and Strips Chicken)
Olathe School District
Pizza Village
Pulley Wholesale Florist
Restless Spirits Distilling
Catherine Rice
Sam's Club
Shawnee Mission School District
Simple Simon's Pizza
Smoothie King
Sonic
Union Horse
UnitedHealthcare
https://hpcks.org/wp-content/uploads/2020/04/HPC-Donations-Thank-You-Ottawa-Staff.jpg
480
640
Catherine Rice
https://hpcks.org/wp-content/uploads/2018/01/HPCLogo-v2-300x135.jpg
Catherine Rice
2020-05-11 06:00:46
2020-04-29 11:30:48
Community generosity warms the hearts and souls of staff at Health Partnership Clinic